---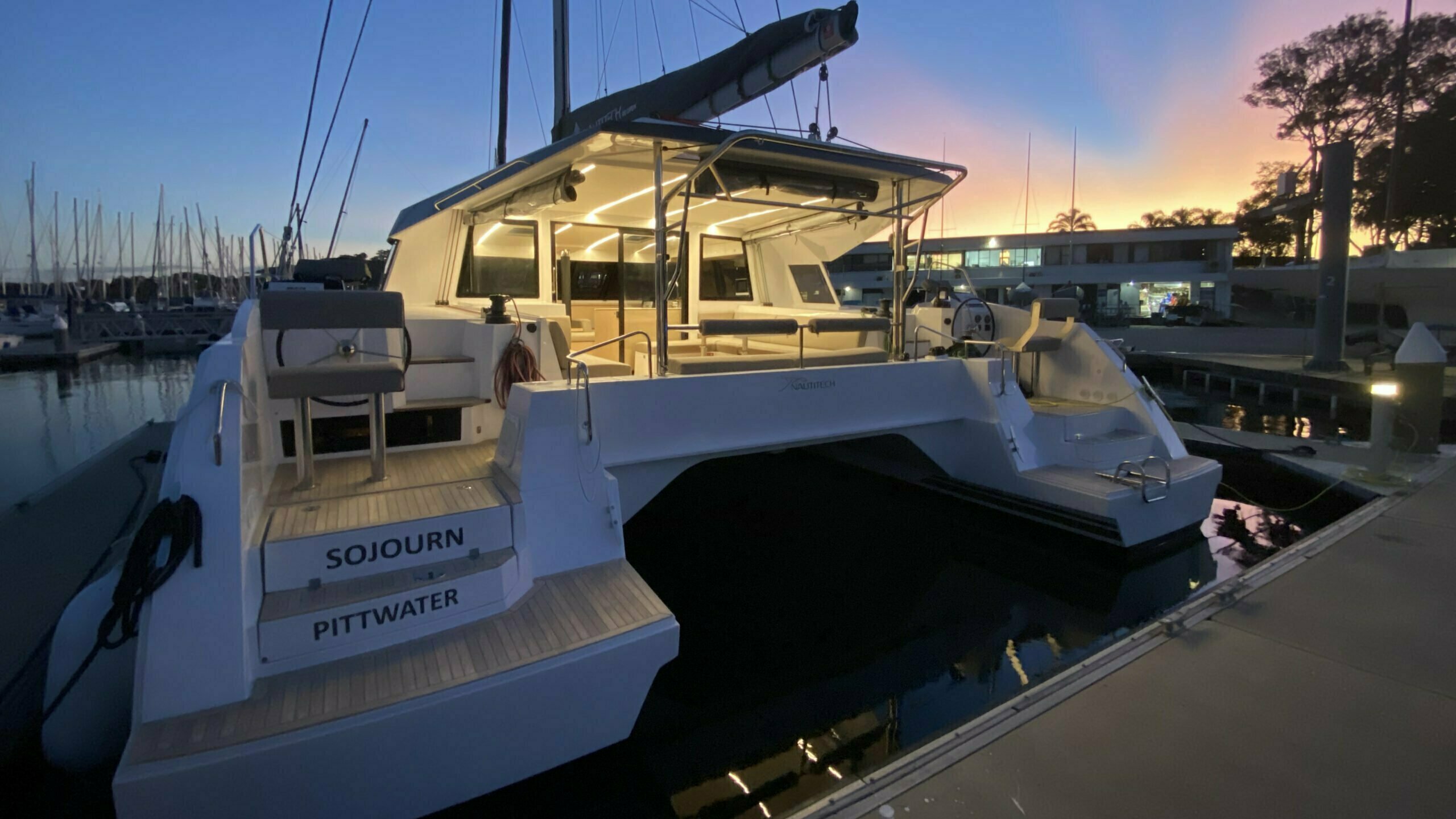 It's hard to imagine a more exciting experience than taking possession of a brand new yacht. Except, that is, when you cast-off the lines and set sail for the first of many adventures for you and your family aboard your brand new yacht.
When Team Sojourn placed an order for their new Nautitech 46 Open, they took their first step on a journey that will bring them great adventures in years to come. The Ensign Yachts team in Pittwater, NSW, worked closely with new owners Monty, Ashley, Tony and their families to finalise the boat's specification, place the order and confirm the production and delivery timetable.
With the construction and fit-out complete, the finished yacht was delivered and launched in Sydney in the winter of 2022. The Ensign Yachts team and their trusted professional partners undertook the final commissioning process and completed a thorough pre-delivery inspection before the hand-over to the delighted new owners.
"On behalf of Team Sojourn I would like to thank you and your team for guiding us through this process and delivering Sojourn to us in Pittwater," Monty told Ensign Yachts. "I am sure our families, friends and ourselves will enjoy years of fantastic memories to come adventuring wherever Sojourn takes us."
Since taking delivery, Team Sojourn team have enjoyed their first overnight experiences onboard, commenting that they found the Nautitech 46 Open to be comfortable and working well in almost all respects.
"The boat is extremely quiet at night and we heard nothing of the noises I'm used to hearing from other boats such as lapping water and halyards jangling, etc." said co-owner Tony. "The owner's shower is fantastic – roomy with a good flow of warm water, enough for two generous showers (not tested beyond that). The cabin, saloon and cockpit LED lighting is fantastic, especially while cooking and dining."
In the short time they've had the Sojourn the team have been busy installing a new watermaker and have produced their first few litres of water in preparation for longer and more remote journeys in the months and years ahead.
"I would like to add my thanks to you and your team on delivery of a great product and I'm sure we'll have many years of fun-filled adventures," Tony said.